Itinerary
Cycle Dublin Bike Tours
Discover the Best of Dublin With a Bike Tour
€30 All inclusive.
We're Cycle Dublin Bike Tours, we specialise in Bike Tours Dublin City, guided Dublin sightseeing tours on two wheels with a professional guide, friendly, small group bike tours through the streets of the capital. Cycling is definitely one of the best ways to see Dublin, and we simply love taking visitors out to experience the Dublin city on two wheels and to show you the highlights and everything that we love about our city. We have a 2.5 hour guided Dublin bicycle tour and also offer exclusive group and private bike rides. Our fully qualified Failte Ireland national tour guide, will show you a side of the city and culture that would be hard to find on your own.
The Aviva Stadium
Aviva Stadium is a sports stadium located in Dublin, Ireland, with a capacity for 51,700 spectators. It is built on the site of the former Lansdowne Road Stadium, which was demolished in 2007.
Bord Gais Energy Theatre
The Bord Gáis Energy Theatre is widely recognised as one of Europe's leading theatrical institutes as a performing arts venue, it is the largest fixed-seat theatre, located in the Dublin Docklands, Ireland.
Brew Dog Dublin Outpost
Brew Dog Dublin Outpost with two bars, 32 taps of incredible craft beer and a mouth-watering food menu, Good place to enjoy its food offering a variety of burgers, and pizzas, and its beer.
Custom House
The Custom House is a neoclassical 18th century building in Dublin, located in Dublin city centre on the north quay facing the river Liffey between Butt Bridge and Talbot Memorial Bridge.
Dubh Linn Gardens
Enclosed behind Dublin Castle, the Dubh Linn garden looks like a formal piece of landscaping styled with a touch of Celtic nationalism. The gardens are fairly new, being completed in 1996. Protected by the stunning Chester Beatty Library and the Dublin Castle.
Dublin Castle
Dublin Castle is a major Irish government complex, conference centre, and tourist attraction, of significant historical importance. It is located off Dame Street in central Dublin. Until 1922 it was the seat of the British government's administration in Ireland.
EPIC Museum of Irish Emigration
EPIC The Irish Emigration Museum, located in Dublin's Docklands, covers the history of the Irish diaspora and emigration to other countries. Europe's Leading Tourist Attraction at the 2019, 2020 and 2021 World Travel Awards.
The Famine Memorial Statue
The Famine Memorial, officially titled Famine, is a memorial in Dublin, which stands on Customs House Quay, is in remembrance of the Great Famine, which saw the population of the country halved through death and emigration.
GPO - The General Post Office
During the Easter Rising of 1916, the GPO served as the headquarters of the uprising's leaders. It was from outside this building, on the 24th of April 1916, that Patrick Pearse read out the Proclamation of the Irish Republic.
Grand Canal Docks
Grand Canal Dock, also known as Silicon Docks, is a hub of modern condos and office towers on the redeveloped River Liffey waterfront. Canal history is outlined in high-tech displays at the floating Waterways Ireland Visitor Centre.
The Ha'penny Bridge
The Ha'penny Bridge is one of the more iconic attractions in Dublin. The Ha'penny Bridge, known later for a time as the Penny Ha'penny Bridge, and officially the Liffey Bridge, is a pedestrian bridge built in May 1816 over the River Liffey in Dublin, Ireland.
Leinster House
Leinster House, the seat of the parliament of Ireland. Originally, it was the ducal palace of the Dukes of Leinster. Since 1922, it is a complex of buildings, of which the former ducal palace is the core, which house Oireachtas Éireann, its members and staff.
Marsh's Library
Marsh's Library, in Dublin City, is a beautifully preserved building and is one of the few in Ireland still used for its original purpose. Marsh's Library, situated in St. Patrick's Close, adjacent to St. Patrick's Cathedral, Dublin, Ireland is a well-preserved library of the late Renaissance and early Enlightenment. When it opened to the public in 1707 it was the first public library in Ireland.
National Art Gallery of Ireland
National Gallery of Ireland, in the heart of Georgian Dublin. The National Gallery of Ireland houses the national collection of Irish and European art. It is located in the centre of Dublin with one entrance on Merrion Square, beside Leinster House, and another on Clare Street. It was founded in 1854 and opened its doors ten years later.
Oscar Wilde Statue
The Oscar Wilde statue is a must-visit while in Dublin. The Oscar Wilde Memorial Sculpture, is a life-size statue commemorating the Irish poet and playwright Oscar Wilde. The sculptures were unveiled in 1997 and were designed and made by Danny Osborne. The comedy and tragedy of Oscar Wilde is preserved in a Dublin park, captured in a sculpture of colourful stone. .
River Liffey
The River Liffey flows through the centre of Dublin to its mouth within Dublin Bay. Its major tributaries include the River Dodder, the River Poddle and the River Camac. The river supplies much of Dublin's water and supports a range of recreational activities. The 132 km. long Liffey River divides Dublin into north and south before emptying into Dublin Bay.
Samuel Beckett Bridge
Samuel Beckett Bridge is a cable-stayed swing bridge in Dublin, that joins Sir John Rogerson's Quay on the south side of the River Liffey to Guild Street and North Wall Quay in the Docklands area. Rotating horizontally through 90 degrees with a span of 123 metres.
Spire of Dublin
The Spire of Dublin, alternatively titled the Monument of Light, is a large, stainless steel, pin-like monument 120 metres in height, located on the site of the former Nelson's Pillar on O'Connell Street, the main thoroughfare of Dublin, Ireland.
St. Stephen's Green
St Stephen's Green is one of Ireland's oldest public parks. Formed in 1664. St Stephen's Green Park is a historical park and garden, located in the centre of Dublin city in a Victorian public park, with tree lined walks, shrubberies, colourful flowerbeds, herbaceous borders, rockeries.
St. Patrick's Cathedral
Built between 1220 and 1260 in honour of Ireland's patron saint, Saint Patrick's Cathedral offers visitors a rich and compelling cultural experience and is one of the few buildings left from medieval Dublin. St Patrick baptised Christian converts on this site 1500 years ago.
Temple Bar
Temple Bar is a busy riverside neighbourhood, spread over cobbled pedestrian lanes. Crowded pubs host live folk music and DJ sets, and diners pack restaurants serving Asian, American and Irish cuisine. Quirky boutiques stock clothes and crafts by local designers.
The Grand Canal
The Grand Canal is the southernmost of a pair of canals that connect Dublin, in the east of Ireland, with the River Shannon in the west, via Tullamore and a number of other villages and towns, the two canals nearly encircling Dublin's inner city.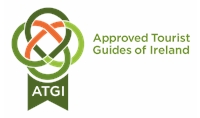 Cycling Tours Dublin
Cycle Dublin Bike Tours, a great way to discover Dublin city. You'll be taken through the most beautiful and interesting aspects of this city.
Take part in a bike ride in Dublin! Book online now for the best price. Best value guarantee. Top-rated things to do. Bike tour of Dublin's highlights and hidden gems.